Quick Start
Let us create a 3D model from a set of input images step-by-step.
Remember, you can return to the previous step by clicking GO BACK at the top of each page, or close the tutorial by choosing the Start button at the bottom of each page.
Step 1 - Add Images
Some images have already been added to the current project. You can skip this step, add more images or remove current images by starting a new scene.
To start a new scene, click to the main application icon in the top-left corner to open file popup menu and select
,
or press

ctrl+N

.
To add images or laser scans, you have several options how:
Select the

Workflow

tab in the application ribbon. Then click the button to add one or more images.
Do the same with

ctrl+enter

shortcut.
Click the
Do the same with

ctrl+shift+enter

shortcut.
button in the same tab to add all images in a folder.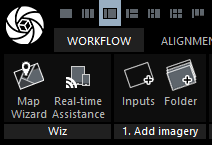 Drag and drop

Simply drag images from Windows Explorer and drop them into RealityCapture. Next to the mouse pointer, you will see when the dragged selection can be accepted.

To continue, add one or more images into the project using the methods described above or import a test dataset from the cloud.
You can download the datasets and other here.
You should add at least two images before you can continue.
Continue
Calculate camera poses for added inputs